Mythlore
A scholarly, peer-reviewed journal devoted to the study of mythopoeic literature
---
History & Back Issues
Mythlore
was founded in 1969 by Glen GoodKnight, Founder of the Mythopoeic Society. He edited its first 84 issues (with a few exceptions edited by Gracia Fay Ellwood, as noted on the list).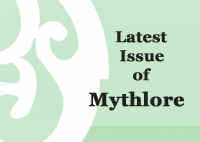 In its early years it was a "fanzine" that included articles, a great deal of art work, columns, book and media reviews, poetry and other creative work.
Over the years the articles became more and more scholarly. When Dr. Theodore Sherman of Middle Tennessee State University assumed the editorship with issue 85,
Mythlore
completed its transformation into a refereed scholarly journal (including book reviews). At that time its format changed from 8 1/2" x 11" to 6 1/2" x 9". Janet Brennan Croft, currently of University of Northern Iowa, became editor in 2006 and switched to a double-issue format. The journal was published in two double issues per year, in approximately April and November through Spring 2013. In Fall 2013 the double issue numbering was dropped and electronic subscriptions became available for individuals.
Mythlore
is indexed in the
MLA International Bibliography
,
Current Contents
, and other indexes. We also suggest downloading the
Mythlore Index Plus
for its use of keywords more specific to the fantasy literature field.
Please note that
Mythlore 80
(simultaneously published in the U.K. as
Mallorn 33
), the Proceedings of the J.R.R. Tolkien Centenary Celebration, was out of print for many years but has recently become available once again.
The
official archive of Mythlore back issues
is hosted by Southwestern Oklahoma State University Libraries and includes all content from the first issue to the most current. At this site you can search for and download
individual articles, reviews, and other content
from the included issues.
Full issues
are available for purchase below. Formats vary; issues may be available as originally printed, as photocopies, as downloadable PDFs, or as print-on-demand physical copies. The listings below will indicate which formats are available.
Ordering back issues
Listed below are all back issues of Mythlore. Click on the issue to order it in the formats in which it is available. When you buy electronic issues of Mythlore, please select the "return to Mythopoeic Society website" option after completing your transaction and PayPal will redirect you to the page from which you may download the PDF. Print On Demand takes you to an external site.
You may also order back issues by mail using
our order form and membership application
(PDF - please download and print out). You may also use it to join the Society or subscribe to any of our publications.
---
Mythlore history, reverse order of publication:
For information about how to use PayPal (even if you don't have a PayPal account), please visit our
PayPal page
.