Mythlore
A scholarly, peer-reviewed journal devoted to the study of mythopoeic literature
---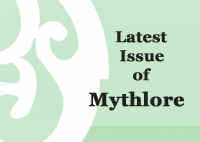 Mythlore
(ISSN 0146-9339) is a scholarly, peer-reviewed journal published by the Mythopoeic Society that focuses on the works of J.R.R. Tolkien, C.S. Lewis, Charles Williams, and the genres of myth and fantasy. The
official archive of Mythlore back issues
is hosted by Southwestern Oklahoma State University Libraries and includes all content up through the most recent issue. The full text of
Mythlore
from 2002 onward is also available in several electronic databases from Gale, Ebsco, and ProQuest.
The Mythopoeic Press offers the
Mythlore Index Plus
, a downloadable and searchable PDF, free of charge. The
Mythlore Index Plus
includes abstracts and indexing for all articles and reviews published in
Mythlore
through the most current issue, all issues of the
Tolkien Journal
, published Mythcon Conference Proceedings, and publications of the Mythopoeic Press. Articles are indexed by author, title, and subject, and reviews by author and author of item reviewed. The index is illustrated with classic black and white artwork from early issues by Tim Kirk and Sarah Beach. This essential reference in mythopoeic studies is updated within a few weeks after the publication of each
Mythlore
issue or new Mythopoeic Press book, and will be announced on our website and social media sites when available.
Download the latest fully searchable PDF here
.
Mythlore
is also indexed in the Annual Bibliography of English Language and Literature, the
Modern Language Association International Bibliography (MLA)
, and other sources.
For the publishing history of
Mythlore
and to order copies, please visit:
Mythlore History & Back Issues
---
Missing an issue to which you have subscribed? Please
email
us.
Latest Issue of Mythlore
.
---
Ordering back issues
You may order back issues via PayPal links at our
Mythlore History & Back Issues
page or subscribe at our
Mythlore Subscriptions
page. To order by mail please use
our order form/membership application
(PDF - please download and print out).
Remember, you don't need a PayPal account to use PayPal;
more information here
. Don't forget to visit our
Store
for other items of interest to the mythopoeically inclined.