The Mythopoeic Society is a non-profit organization devoted to the study of mythopoeic literature, particularly the works of members of the informal Oxford literary circle known as the "Inklings."
Mythcon 47
, August 5-8, 2016, in San Antonio, Texas. Our Guests of Honor are author Midori Snyder and scholar Andrew Lazo. Do come join us!
---
The latest from
The Mythopoeic Press
,
Baptism of Fire: The Birth of the Modern British Fantastic in World War I
. Edited by Janet Brennan Croft.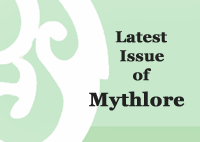 The Mythpress is most honored that two recent titles have been nominated for British Science Fiction Association award for Nonfiction:
Perilous and Fair
(co-edited by Leslie Donovan and Janet Brennan Croft) and
Baptism of Fire
(edited by Janet Brennan Croft alone).
---