The Mythopoeic Society is a non-profit organization devoted to the study of mythopoeic literature, particularly the works of members of the informal Oxford literary circle known as the "Inklings."
The SWOSU Digital Commons is the official digital archive of the Mythopoeic Society.
Did you know ...you can support the MythSoc when you follow our links to Amazon? The price is the same but the Society gets a little bit from your purchase.

---
THE FIRST MYTHOPOEIC SOCIETY ONLINE MIDWINTER SEMINAR
will be held on February 4-5, 2022, and we are trying to spread the word near and far about both the event and the quickly approaching deadline for the
Call for Papers
.
The seminar is sponsored by The Writers of the Rohirrim, a Mythopoeic Society Discussion Group. We invite you to embrace the darkness of those long winter nights and participate in The Inklings and Horror: Fantasy's Dark Corners.
Presentation proposals are being accepted through November 15.
Registration information is here.
---
Did you also know ...the Mythopoeic Society sells assorted goodies, in addition to our excellent publications and the books we publish? Please visit our store and wander through.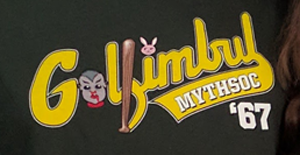 We Now Have Golfimbul T-Shirts!
---