Posted on September 27, 2012 by
"Dark Questions." Mythlore 14.3 (#53) (1988): 55.
Lewis, C.S. Timeless at Heart: Essays on Theology. London: Fount Paperbacks, 1987. 144 pp. ISBN 0-00-627136-7.
American readers will find three of the nine essays included in this little volume in The Grand Miracle (New York: Ballantine, 1983), and all but one of them along with the selected Letters, in God in the Dock (1970), which appeared in England as Undeceptions (1971): the "one" appeared in The Weight of Glory and Other Addresses (New York: Macmillan, 1980). Long time fans of Lewis will likely have these volumes, but for new readers, fanatics who collect everything, and who are intrigued by Father Walter Hooper's imaginative editing, Timeless at Heart will be intensely interesting.
I am not sure that the contents of this little collection are in fact all "Essays on Theology," but I will not quibble. There is something to be learned from every new juxtaposition of Lewis's writings, since he was extremely prolific and one does not, nor at least not yet, fully memorize chapter and verse. New insights, and in this case one rather striking contradiction, arise from the exercise of contemplating these essays in this combination. Lewis says that "If one has to choose between reading new books and rereading the old, one must choose the old" (16), and Timeless at Heart provides that chance.
C.S. Lewis was not a Pacifist, but I am: in Lewis's fantasies this puts me in the same category as Eustace Scrubbs and Fairy Hardcastle. I wish I thought that the former's pacifism laid the groundwork for his salvation and that the latter's quick abandonment of pacifism laid the groundwork for her damnation, but I don't. I do think that Pacifism is a vocation to which some are called. In his essay "Why I am Not a Pacifist," Lewis argues that one must base one's moral judgments upon Reason, which is no doubt true, but he concludes that "the voice of almost all humanity [is] … against" the Pacifist (65). That is, of course, not quite true. There are whole denominations of Pacifist Christians as well as a broad sprinkle of Pacifists in every denomination. If Lewis can list Homer Virgil, Plato, Aristotle, Cicero, and Montaigne as non-Pacificists, one can list Martin Luther King, Mohandas Gandhi, Dorothy Day, David Thoreau, George Lansbury, John Wollman and Leo Tolstoy as Pacifists. But the point is that Lewis is contradictory in his appeal to authority, especially to authority which may actually have the power to compel him.
In "Willing Slaves to the Welfare State," he writes that "I dread specialists in power because they are specialists speaking outside their special subjects … But government involves questions about …what scientific training gives a man's opinion no added value" (122). I agree. But in the letter "The Conditions for a Just War," he says "The ultimate decision as to what the situation at a given moment as in the highly complex field of international affairs is one which must be delegated " (126) by "private persons" to "governments." This, of course, is exactly what Pacifists are not prepared to do. They feel the same repugnance to delegating decisions about whether to resort to violence as they do about delegating decisions in other spheres of moral responsibility.
To do him credit, Lewis concludes with this: "The question is a very dark one. I should welcome about equally refutation, or development of what I have said" (127). What a sweet eirenicist he was, after all. And no doubt by now he has gone where the blessed Peacemakers go, and where there is no darkness at all.
---
Posted on May 20, 2012 by
---
Posted on December 15, 2011 by Edith L. Crowe
University of Zielona Góra, Department of Polish Studies, Centre for Mythopoetics and Philosophy of Literature announces:
"The Fantastic & the Miraculous" 6th Annual Conference
Tuesday – Wednesday 27-28 March, 2012, Zielona Góra, Poland
HOMO MYTHICUS – MYTHIC MODELS OF IDENTITY
The contemporary culture draws on the mythic on various levels in a variety of aspects. The multiformity of myth and its resistance to being defined make myth-related references both attractive and troublesome for researchers. Mythic elements in literary works and cultural artefacts often get degraded or trivialised; sometimes they are simply problematic. In modern culture and literature, myth seems to some extent to be living a life of its own. Avoiding ultimate interpretation and analysis and hiding in even the most obvious references, myth remains a realm open to explore.
We invite philologists, linguists, philosophers, theologians, ethnologists, sociologists, and all other scholars interested in the following areas:
1. Mythopoeia and new mythology in literature
- mythic models of authenticity in modern literature and culture
- mythic hero's authority in modern reader's eyes
- quest for the complete meaning of the mythic picture
- functions of the aletheic interpretation of symbol or mythologeme found in culture texts:
a/ therapy, b/ speculation, c/ understanding
- models of modern attitudes to the mythic dimension of axiology, reality, humanity
2. Functions of the mythic experience found in culture texts
- play
- speculation
- seeking one's identity
3. Mythic elements and religious elements in modern culture
4. Mythic elements and elements of truth (symbolic-veracious), the mythic and the rational
5. Pop-culture and popular literature myths – reduction or totality of identity
6. Types of the mythic motif of identity in modern literature: mosaic, aletheia, infantilism, trivialising, irony
PROPOSALS
Please send in your proposals along with filled in 'Conference Registration Form' (enclosed) and an abstract (in Polish and English – those representing Polish scholarly establishments; in English – all others) by January 31, 2012. The abstract should not exceed half a page of standardised A4 computer printout. Notice of acceptance will be given by February 17, 2012. The presentations may take up to 20 minutes (about 6 pages). Detailed information on the maximum length of a paper to be published will be given after the notice of acceptance.
CONTACT
Please, send your submissions – as well as questions – to Ms. Kateryna Atamanova (affiliation: Uniwersytet Zielonogórski, Instytut Filologii Polskiej, al. Wojska Polskiego 67, 65-677 Zielona Góra) kateryna.atamanova@gmail.com . For more information and a copy of the Registration form,  English speakers should contact Aleksander Rzyman aleksander.rzyman@xl.wp.pl
CONFERENCE FEE
The fee is PLN 450 (or its equivalent in €, ₤, or $) and includes dinners and coffee & cookies during the two days of the conference + banquet on the night (Monday 26th March) preceding the conference. It also includes the publication of a peer-reviewed post-conference volume.
Please, effect the payments by transfer to the University of Zielona Góra's bank account:
/bank:/
Kredyt Bank S.A. Filia Nr 2 o. Zielona Góra, ul. Podgórna 50, 65-246 Zielona Góra, Poland
/beneficiary:/
Uniwersytet Zielonogórski, ul. Licealna 9, 65-417 Zielona Góra, Poland
/account no.:/
PL 42 1500 1810 1218 1004 4483 0000
SWIFT / BIC Code: KRDBPLPW
Please, mark payment as: 'Konferencja FANCUD'
LODGING
All guests are kindly requested to arrange for their lodging by themselves. Visit Zielona Góra's web pages to find out about hotels. The organisers can recommend the "Śródmiejski" hotel – conveniently located in the very centre of the Old Town, good bus connection to the venue of the conference (U.Z., al. Wojska Polskiego, Kampus 'B'). Breakfasts included, at a reasonable price.
---
Posted on December 11, 2011 by Edith L. Crowe
Joint Meeting
The C.S. Lewis & the Inklings Society with The 8th Ewbank Colloquium on C.S. Lewis & Friends
May 31 – June 2 at Taylor University, Upland, Indiana.
Keynote speakers are Alan Jacobs, author of The Narnian, David Downing, author of Looking for the King: an Inklings Novel, and Ron Reed, artistic director of the Pacific Theater in Vancouver.
Call for Papers:
Paper proposals are invited on any topic that concerns C. S. Lewis and/or his friends:  Owen Barfield, G. K. Chesterton, George MacDonald, Dorothy L. Sayers, J. R. R. Tolkien, and Charles Williams.  Proposals should be 100-200 words long and should anticipate a twenty-minute presentation time limit.
Paper Awards
CSLIS is sponsoring a competition for the best graduate student and the best faculty/scholar paper given at the conference.
Also, currently enrolled undergraduate students are invited to submit analytical essays focusing on the work of C. S. Lewis or a related author.  The student with the winning essay will receive a cash prize of $500, along with free registration, room, and board for the Colloquium.
For more information, please see our website:  www.taylor.edu/cslewis or contact Laura Constantine (see below).
Laura Constantine
Assistant, Center for the Study of C.S. Lewis and Friends
Taylor University
Upland, Indiana 46989
(765) 998-4690
---
Posted on July 30, 2011 by
Catherynne M. Valente, the Author Guest of Honor at Mythcon 42, posted to her blog the speech she gave at the society's banquet two weeks ago.
---
Posted on July 01, 2011 by Edith L. Crowe
[Daniel Abraham is a science fiction and fantasy author who lives in Albuquerque, New Mexico. His short stories have appeared in numerous publications and anthologies. He will be presenting at Mythcon 42 in Albuquerque, New Mexico (July 15-18) as part of the Writers' Track.]
---
Zach Watkins: Daniel, we are tickled that you will be attending Mythcon 42 in Albuquerque as part of our Writers' Track series. Most of the attending authors are from this region, though all of you are published nationally. So it's nice to get some people who've made it in a very real sense.
Daniel Abraham: God it's weird to be in that group! It doesn't feel like it, that's all.
ZW: Have you experienced yet what it's like to be recognized as "Daniel Abraham," the name on the book cover?
DA: I've had a couple times where people acknowledged that I exist and it was weird, it was very strange. The tiny, little, small pathetic drop of fame that I have gotten is still pretty surreal.
ZW: When we set up this interview, you said you wanted to talk about "low-status" literature and its role. So what have you been thinking on that subject?
DA: I have this kink about economics. One of the things that I get out of it is that you don't judge people by what they say, you judge people by where they spend their money. So, for example, if I say that by god I'm a leftist Democrat and I spend all of my money supporting right-wing Republicans, I'm a right-wing Republican. When you have somebody who's doing one thing and saying another, you judge them by what they do, not what they say. So I take that and look at what books people are buying. I understand there's one class of very high status books. A Brief History of Time. Tremendous best seller. I'm not sure anybody read it. I think we mostly got it to put on our coffee tables to show that we're very smart.
ZW: This is the Stephen Hawking book?
DA: Yes. Nothing against Stephen Hawking, I'm sure it's a fine book. I have it. I haven't read it. Abstract cosmology is not something that actually, I think, speaks to the American soul in the way that seeming smarter than the guy next to you really does. So I think there is this class of books that you buy in order to look clever. And that's cool. I understand why you do that. But then there's a whole bunch of books, like the majority of publishing, that are guilty pleasures. And they're the kind of places I play. They are the fantasy, and the science fiction and the mystery and romance—romance is still the one that everybody, I think, looks down on intellectually. I mean, folks writing space opera sneer at romance. And romance has I think the largest and most powerful following. So something interesting is happening there. This goes back to judging things by what you put your money on. They put their money on romance, and they put their money on genre, on these things that don't lend social status. So they must be doing something else. I think it's clear that romance is sitting on a huge discomfort that we have as a culture, as a nation, about whether we individually are lovable or if we're going to die alone and rejected. It's a huge seller because we are all suffering that. I think when we see this huge popular upwelling in some genre, in some group of related literary projects that aren't respectable, that they're offering comfort to things that need to be comforted. I think that urban fantasy is sitting on a real discomfort about women and power. When I say that it sounds like this is some sort of necessarily progressive feminist thoughtful literature. I'm not saying that. I'm saying it's feeding off of and lending comfort to a real confusion and a real discomfort. Not that it's offering solutions to it. People confuse that. Urban fantasy isn't about reconciling our feelings with women and power any more than romance is about how to build a healthy relationship. They're not didactic, they're not there to improve you. They're there to offer you comfort. Genres are where fears pool. So you see genres that have gone away—Westerns are gone. They were huge, and they're gone. Whatever they were answering, people stopped needing it. I don't know what it was. And I don't know that all of the genres we have now will survive forever, I don't expect they will. But right now I think those literary projects, those low-status things, are really the best barometer of what's bothering us.
ZW: You called these the guilty pleasures and very much separated them from how-the-universe-works books. Why do you think that, when we feel the need to address something, we want to ensconce ourselves into it, make contact with it, but not necessarily figure it out? Why romance books instead of how-to-be-happy-in-a-relationship books?
DA: I don't think those are antithetical. I don't think you can't do both, but I don't think that what you come for is a how-to book. It's the same reason you don't always eat granola for breakfast. We do things that are pleasurable and comforting because we are creatures of pleasure and comfort. And solving problems realistically kind of makes for lousy stories. Having a really sane, balanced, centered life means you're low drama. That's not what fiction does.
ZW: If as you say this low status literature addresses something in our societies that makes it popular, what is it about fantasy literature in general, or yours specifically, that makes people crave it?
DA: Epic fantasy—think J.R.R. Tolkien, even Stephen Donaldson—is about war, and we are in America right now really confused about war because we've got like two and a half of them going on right now, and we don't talk about it and we don't really admit to our sacrifices about it and there's this weariness about war. Tolkien's The Lord of the Rings is a story about the futility of war, it's a story about the morality of disarmament, about the actions of individuals being the only force of salvation. That's a real criticism of war. If you look at Martin and A Game of Thrones, what you have is this fantasy that's very reminiscent of the Wars of the Roses in which there are no good guys, there aren't many bad guys, there is this tremendous multivalent ambition and it's a bleak, bleak world. Now why does that speak to us? Because we're reading The Economist, and it's there.
What I see in people's reactions to me is that people who like my stuff like it because I love all my characters. I love my bad guys, too. I want to see my villains forgiven. I want to see them understood. I think that may be the literary project I'm working on. I didn't mean it that way, but when people read my epic fantasy, I can get them to root for whoever's point of view the chapter is written in. Even when the characters are going to kill each other. And it's not ambivalent so much as multivalent.
ZW: It's interesting that you're talking about war when at least the beginning of The Long Price Quartet has this threat of war lingering, depending on the outcomes of these few individuals we see in the narrative. But there is no war.
DA: Not in that one. Book three is called An Autumn War because there's this war. But I don't like battles. I don't like battle scenes. I don't like fight choreography very much.
I'm going to give you two scenes. There's the battle scene, where you have the great armies arrayed against each other, and the tactics of the battle, and the blood and the screaming and the destruction and the courage. There's another scene after the battle, we have three soldiers walking down the street one way, and a woman and her child walking the other. Everybody knows that the woman's husband probably died in the battle that the other three soldiers just won, and one of the soldiers gives the kid a piece of candy. One of those tells me more, one of those is more interesting to me. And it's the one where you're thinking, "OK, if that kid takes the piece of candy, if he doesn't take it, what does that mean? What does it mean that it was offered?" It seems to me the violence is actually pretty simple, and the things that surround violence are more interesting.
ZW: Have you read Tolkien's "Homecoming of Beorthnoth?" It's his piece set on the field of "The Battle of Maldon" after the battle has ended. To me, that's the same sort of thing where you have the battle and then that moment afterward that says much more.
DA: And who we are, and what the consequences are.
ZW: I have seen similar discussion going on just this week with the Osama bin Laden assassination, where people are saying, how do we respond to this? What do we do? Because how we treat our enemy says more about us than it does about the enemy.
DA: I have been thinking a lot about bin Laden and about his kind of literary project. He was an amazing self promoter. He was stunning. In point of fact, he wasn't very much of a threat to us, you know? More people die every year from car wrecks. If you look at it coldly, and you look at the numbers, al Qaeda's not a big threat, and what he did was not a big threat. But the narrative that came out of it was so powerful, and the way that he married that narrative to his personality and to his life was so powerful and so effective that I look at his death and I see this huge cultural relief. The catharsis we feel because that one guy died, I think is a testament to how well he did his job. You know, I'm not particularly a man of violence, and I felt the world lighten up a little bit when I heard the news. And yeah, I think there's a difference between celebrating his death and acknowledging that release.
ZW: I should probably make sure you get your plugs in. You have written more than The Long Price Quartet, and we're hoping that you can get Mythcon 42 attendees reading other things. But The Long Price Quartet is set in this very Asian-like culture which is very unusual in Western fantasy. So can you talk about the decision you made to write in that kind of world?
DA: Especially when you're starting off as a writer, there's tremendous encouragement to embrace originality and do something new. I wanted to do something that felt very different, that stood out from what other folks were up to. And one of the ways to do that was to have it not be the traditional pseudo-medieval world. I also did some weird stuff with the structures of the books, with the big time jumps between the books and a fairly small cast of characters. And what I was really reaching for was to do something I hadn't seen before. And I think those books did what I wanted them to do. They didn't light the world on fire sales wise, but that's always a crap shoot. But artistically, I'm very comfortable with how those books came out.
ZW: How do you feel they impacted your development as a writer?
DA: They gave me practice. The other mandate going into that project was to figure out how to write a novel, because I did a lot of short stories before those books. And I felt pretty good about the rhythm of a short story and how a short story works. And I was pretty clear that I didn't know how to write a novel, because, I'd done three, maybe three and a half, four, before I started The Long Price Quartet. And they sucked less each time. But they still sucked. And in fact, when I finished the first book of The Long Price Quartet, A Shadow in Summer, my first readers, the people who were critiquing it as I went along, my writers' group, all said, "It's beautifully written, I don't know what's going on, and I hate your main character." And I wound up throwing the book out completely and rewriting it from scratch.
ZW: Being part of that writers' group in New Mexico and being from here—I had a friend once call Albuquerque a "not real part of the world"—as an author, how has the Southwest influenced you or provided you with inspiration?
DA: One of the things that's been interesting to me, thinking about growing up here, is that the American narrative of race has never been my experience. When you look at the American narrative of race, the story we tell ourselves about race, it's about white folks and black folks. Where I grew up, it's about Anglos and Hispanics. And that's a totally different dynamic. I live in a place that is the occupied territories. I live in a border town. I live in a place where some people identify as American and some people identify as Mexican, and I've always felt a little bit like a foreigner traveling other parts of the nation. I've always felt a little bit outside the narrative of my culture. And I kind of like that. That sense of being from something that's not quite real—and when we say not quite real, we mean not quite part of the overwhelming narrative. That gives you, I think, a certain power over the narrative. I like that. I enjoy that. Also, growing up I had access to literatures that you don't get other places. My dad would read me short stories by Enrique Anderson Imbert, and he would translate them on the fly as he read. And they were all these amazing stories about these fantastical and weird and disturbing things. Part of my experience of literature was those things I don't know that you get when you're living in other parts of the country.
Racism's going to be any place. No matter where you go, when you get folks who identify as different races, it's going to happen. We're a tribal species, it's what we do—but here, you have that racial divide with power on both sides. I'm in New Mexico and if you have a Hispanic surname, you're electable. When you have that level of power equality and difference and acceptance and distance, it's… I think New Mexico is a very humane place. Apart from the grinding poverty.
ZW: Your chance to pump yourself. Do you have any new or upcoming works you'd like Mythprint readers and Mythcon 42 attendees to know about?
DA: Specifically, yes. I'd like you to know about The Dragon's Path, which is the first book in The Dagger and the Coin series, my next epic fantasy. I'm also coming out with an urban fantasy series under the pen name M.L.N. Hanover, The Black Sun's Daughter. So if you want to talk about what I think urban fantasy does, and women and power, there's that. And I have a book coming out with Ty Franck [also attending Mythcon 42] called Leviathan Wakes, which is a space opera, coming out in June. Right before Mythcon. It has a big spaceship on it.
ZW: Perfect! Thank you, Daniel. I'll see you again at Mythcon 42 this July in Albuquerque, New Mexico.
---
Posted on June 24, 2011 by Edith L. Crowe
Please note there are two paper calls here–first, that for the main conference, then for an additional one-day postgraduate symposium on the 17th.
The Return of the Ring: Celebrating 75 Years of  The Hobbit Loughborough University, UK, 16th-20th August 2012
J.R.R. Tolkien is an author who excites diverse critical response from both academia and non-academia. Although best known for The Lord of the Rings, The Hobbit, and other tales of his Middle-earth 'legendarium', Tolkien's oeuvre extends to Anglo-Saxon studies (to which he contributed much as an academic), essays on fairy tales, poetry, children's tales and non-Middle-earth fantasy.
In recent years academic interest in the fantasy genre has increased dramatically. Likewise fandom studies are developing as fan productions proliferate, particularly since Peter Jackson's film adaptation of The Lord of the Rings.
'Return of the Ring' is a conference (celebrating 75 Years of 'The Hobbit) which aims to bring together scholars and researchers from across the globe to share their expertise and interest in any Tolkien-related area of study such as linguistics, fantasy, literature, education, media & culture, fandom etc. Speakers include Tom Shippey, Martin Barker, Dimitra Fimi, John Garth, and Corey Olsen amongst others.
The conference will include several academic streams as well as other events and is run by The Tolkien Society, the long-established literary society devoted to the promotion and understanding of the works of J.R.R. Tolkien.
There will also be a gathering of musicians and artists inspired or
influenced by Tolkien, and of those interested in any aspect of Tolkien and his work.
The Tolkien Society invites submissions of proposals for papers, panels, workshops, and posters. For more information about the programme, to submit abstracts or papers, or to discuss any aspect of your proposal, please contact Meggy McMurry at programme@returnofthering.org by 11th November 2011. If you are organising a group of presentations, the group co-ordinator should contact Meggy directly before submitting the individual items.
We also invite applications for the Christine Davidson Memorial Lecture, for which the selected recipient will receive some financial assistance to attend the conference. If you wish to apply, please read the information about the award www.returnofthering.org/cdml.php and the criteria for entry.
Details of the full conference, 'Return of the Ring', including
accommodation rates, are available at www.returnofthering.org
Postgraduate Symposium:  Call for Papers
Postgraduate Symposium: Tolkien Studies
Friday 17th August, 2012 at Loughborough University, UK
As part of their larger scale conference, 'Return of the Ring', the Tolkien
Society (UK) are offering a dedicated postgraduate symposium bringing
together contemporary research in any discipline from the field of Tolkien Studies such as linguistics, literature, film studies, creative responses etc. This is a unique opportunity for postgraduate and early career stage researchers to come together, share scholarship and be mentored by leading academics in the field in interdisciplinary panels.
The day is structured around the postgraduate papers, grouped into panels, and culminates in a workshop session led by Martin Barker, Dimitra Fimi and Corey Olsen. The number of attendees is limited to 40 (with a maximum of 24 speakers in parallel sessions). All symposium attendees will also be welcome to attend the Friday evening events and entertainments of the main conference.
The symposium is free to postgraduates already registered for 'Return of the Ring' or £40 (including lunch) for those who are attending the symposium only. Student accommodation is available for either/both Thursday 16th and Friday 17th August.
To register for the symposium, or to submit an abstract (for a 15 minute paper) or for all other enquiries, please contact Meggy McMurry at programme@returnofthering.org
---
Posted on June 22, 2011 by Edith L. Crowe
Call for Submissions:
A special issue of Beyond Bree  (newsletter of the Tolkien Special Interest Group of American Mensa) will be devoted to exploring the works of J.R.R. Tolkien in The Digital Age. This time frame includes the new movie magic of Peter Jackson, the success of Harry Potter, as well as thoughts and reflections about reading Tolkien on the new eReaders.
Related subjects about the current state of fantasy will also be considered. Echoing Marshall McLuhan, is there a message about Tolkien that can be gained from this new medium or will it change the Tolkien experience? How will Tolkien endure these new developments?
Share your thoughts, ideas, concerns, fears, gripes, questions, reviews, and article ideas with guest editor Ryder W. Miller, editor of From Narnia to a Space Odyssey: dolphin1965@hotmail.com
---
Posted on April 11, 2011 by Edith L. Crowe
Don't you just hate it when you encounter a Guest of Honor at Mythcon and you aren't familiar with his or her work? Do you wonder if this person is going to be somebody you'll like listening to? Well, you can easily avoid this social faux pas by starting now to familiarize yourselves with the Mythcon 42 Guests of Honor and their work. The inimitable Ellie Farrell has pointed out to be that Catherynne Valente is going to be appear at several venues in the San Francisco Bay Area (home of the Mythcon 43 Committee) from May 13 to 17. That will be preceded by Los Angeles (and San Diego) May 11-12. She'll be in the Northeast & Chicago in April, the Pacific Northwest for much of May, and New York in late May. She's also appearing at Wiscon 34, the American Library Association annual conference, and CONvergence 2011 before Mythcon. For a detailed list of her appearances check out http://www.catherynnemvalente.com/appearances/. If you'd rather be an armchair traveler, her website can show you her varied oeuvre, including novels, short stories, poetry and essays. By July 15 you can easily be a Valente expert!
Although our Scholar Guest of Honor, Michael D. C. Drout, doesn't quite have the travel schedule of Cat Valente, you can get to know him online at http://fileserver.wheatonma.edu/mdrout/index.html. From here, check out his Vita and marvel at a list of publications longer than an Ent's "hello." Like any self-respecting contemporary scholar, he has a blog at http://wormtalk.blogspot.com/– another way to familiarize yourself with his varied interests and knowledge. How can you resist a prof who can say: "life and being department Chair (those are two distinct states, like living and being a zombie)"…which proves he is an intelligent and discerning fellow.
A prepared Mythcon attendee is a happy Mythcon attendee! Although, I must confess I rarely see anyone unhappy at Mythcon. Especially if alcohol is available ("in the spirit of the Inklings," of course!). Sorry. See you in Albuquerque.
---
Posted on April 03, 2011 by Edith L. Crowe
Dan Kline of the University of Alaska is "soliciting 500-word proposals for a volume dealing with the Middle Ages, medievalism, and contemporary digital gaming, broadly defined." An interesting coincidence, given the Mythcon theme this year. Slightly outside the bull's-eye of our core interests, but I know some of you out there will be interested. May 1, 2011 deadline.
All Your History are Belong to Us: Medievalism and Digital Gaming
The Middle Ages remains a vibrant presence in contemporary culture, and while cinematic medievalism has been intensively investigated in the last decade, digital gaming has received relatively little attention despite its widespread cultural impact. For example, the video game market now grosses more domestically than Hollywood, and World of Warcraft boasts more than 12 million monthly paying subscribers (25 million total units). Gaming theory too has seen its share of innovation, and digital technologies are now a regular feature of higher education and cultural studies. Medievalism, in its various guises, has also been the subject of intense scrutiny in anthologies by Anke Bernau and Bettina Bildhauer, Medieval Film (2009); Karl Fugelso, Memory and Medievalism (2007); and David Marshall, Mass Market Medieval: Essays on the Middle Ages in Popular Culture (2007). Further, the turn toward speculative medievalisms, object-oriented philosophy, and Actor-Network Theory has initiated new methodologies, raised new questions, and offered new possibilities for understanding actor-actant networks and overcoming the subject-object distinction, all of which enrich our understanding of digital and historical realities and problematize traditional understandings of subjectivity, temporality, and textuality.
A few of the more popular medievally-inflected gaming titles (and series) include:
• Age of Empires: Age of Kings • Diablo • MediEvil
• Arthur: Quest for Excalibur • Dragon Age • Medieval Total War
• Assassin's Creed • Dungeon Siege • Morrowind
• Baldur's Gate • Dynasty Warriors • Oblivion
• Beowulf • Elder Scrolls • Sims Medieval
• Civilization • Fable • Shogun Total War
• Dante's Inferno • Jeanne d'Arc • Stronghold
• Dark Age of Camelot • Lionheart: Legacy of the Crusader • Warcraft & World of Warcraft
 Some possibilities for topics include:
• Gaming, medieval texts, and digital textualities; digital communities, and electronic subjectivities
• Gaming genres (sword and sorcery/fantasy games, etc.), game types (MMORPG, FPS, RPG, RTS, stealth, survival/horror, etc.), single-player/cooperative/multiplayer games
• Gaming, speculative medievalisms, and counterfactual history
• Gaming, secret societies, arcane religions, and the 'templarization' of history (Dead Space, Mass Effect, others)
• Gaming, digital sociologies, and electronic epistemologies
• Gaming, object-oriented philosophy, complexity, and Actor-Network Theory
• Gaming, gender, sexuality, class, age; trans-developmental and trans-temporal subjectivities
• Gaming and race and nation; digital orientalism and postcolonialism; space-based societies
• Gaming and cross-platform media (games and/as film tie-ins)
• Gaming and pedagogy
• Gaming, discursive/symbolic violence, and ethics
• Gaming, social simulations, LARPing and LARPers (Live-Action Role Playing & Players)
• Gaming and cheats, glitches, hacks, mods
• Gaming, the academy, digital humanities, and generational divides.
Please send your proposals (and any questions) to Dan Kline, University of Alaska, Department of English, 3211 Providence Drive, ADM 101-H, Anchorage, AK 99508 at afdtk@uaa.alaska.edu by May 1, 2011.
---
Posted on March 02, 2011 by Edith L. Crowe
In the wake of the earthquake in New Zealand, the White Tree Fund has gathered some information to help as many people as possible during this crisis. This alert is a list of information and news resources and ways to donate. They are organizing a fundraising effort for the people of Christchurch. See (http://whitetreefund.blogspot.com/) for more information. 
If you would like to make donations:
Red Cross New Zealand: http://www.redcross.org.nz/makeadonation (They request that any offers of goods and services should be forwarded to the National Crisis Management Centre (NCMC) in Wellington: http://ca.mc1102.mail.yahoo.com/mc/compose?to=operations@ncmc.govt.nz.)
OXFAM are accepting donations on behalf of the Red Cross because lines are overloaded – they will pass 100% of the donations to the Red Cross. https://www.oxfam.org.nz/_payment/donations.asp?code=26CC6D204F884D75
Salvation Army: http://www.salvationarmy.org.nz/research-media/media-centre/local-news/salvation-army-appeals-for-funds-for-renewed-earthquake-response (you may have to scroll down the page to find the donation section)
CARITAS, an NGO, supports the St Vincent de Paul Society and other Church agencies and is working with people in the greatest need. Caritas has already pledged $25,000 towards relief and recovery: https://secure.flo2cash.co.nz/donations/caritas/donate.aspx
For more information: http://tvnz.co.nz/national-news/christchurch-quake-appeals-launched-4038581 
 
From Lara Sookoo (Founder, The White Tree Fund) who thanks you for your support.
---
Posted on February 11, 2011 by Edith L. Crowe
The following is a slightly edited version of an interview of intrepid Mythlore Editor Janet Croft. You'll find interesting revelations on Janet, the history of Mythlore, tips for getting a paper accepted, and the care and feeding of small academic journals.
Enjoy, and much thanks to the interviewer in this case for allowing Horn of Rohan to publish it. She is Anna Faktorovich– Founder, Director, Designer and Editor-in-Chief of the Anaphora Literary Press and the Pennsylvania Literary Journal. She is working as an English professor at the Edinboro University of Pennsylvania and has presented her research at the MLA, SAMLA, EAPSU, SWWC, BWWC and many other international conferences. Anna has published critical essays, newspaper articles, fiction and art work in literary magazines and academic publications. She won the MLA Bibliography and the Brown University Military Collection fellowships, as well as numerous travel and research grants.
According to your website, "Mythlore was founded in 1969 by Glen GoodKnight, Founder of the Mythopoeic Society." Do you think that there is a correlation between the quality of a given journal and its affiliation with a major society or association, such as the Mythopoeic Society? Do you think the fact that the Society kept a steady stream of financial and editorial support for the journal meant that it was able to persevere across the decades?
 
I think institutional support of some sort is important, particularly for smaller journals like ours, though not essential—a relatively new journal in the field, Tolkien Studies, is not associated with an institution per se (just the university press that prints it) and is doing quite well, while Seven, perhaps more similar to Mythlore, is associated with the Wade Center library at Wheaton College rather than a society. But a thriving society helps support a journal's longevity. Because of The Mythopoeic Society, we have a steady pool of subscribers, a core of officers to whom the editor is accountable, and people we can call on as referees. We can also keep an eye out for likely candidates for future editors among the members. The price of the journal is set at a point that allows us to break even, but the financial support of the institution is there to help us during times of fluctuation in the subscription base.
 
The first issue of Mythlore was 48 pages long. Twenty years later, the issues were not much longer, at around 80 pages, with around 4 issues per year. For the 93/94 issue, when you took over the journal, the page count jumped to 190 pages, with two issues printed in one book. The page-rate has stayed at over 200 pages, with 2 issues in one book, and a steady 2 books per year. Do you think there is an un-spoken requirement in scholarly publishing that an academic journal needs to be around 200 pages? Is the reason for this common length the fact that it is a size that is long enough for a proper binding with soft-cover printing methods?
 
I think it's actually mailing rates that affect this more than anything else!  When you start getting up over 200 pages, depending on your paper weight, you may be on the edge of a rate increase that can dramatically affect your overall costs. Other than that, I can't say that the length was something chosen that deliberately. Just because of the rate at which we receive submissions and our acceptance ratio, we seem to average about ten articles and nine substantial book reviews per issue, and that's just what it works out to for the number of pages. That said, it's a good size, like a small book, and two of those a year makes it a good value for the price of the subscription.
 
Is there a natural progression in a life of a journal that wants to be successful in the long-term from a short publication to longer and longer issues? Should a journal adjust its publication practices to the fluctuations in the academic publishing market, or should it usually stick with its initial rules and regulations?
 
Adaptability is very important.  Mythlore has been through two substantial format changes (in addition to many minor ones), each corresponding to the tenure of a new editor.  First we went from a full-size format with illustrations to a digest size in 1999 when we got our first academic editor; then when I became editor in 2006 I made my first issue a double one, and found that the twice-yearly double issue was simply the best way to work it around my other obligations as an academic as well as save on postage costs. Part of what influenced this progression was the fact that the society began publishing other journals that took over the less-academic aspects of Mythlore, so we could focus on being purely the scholarly arm of the society and having a format and publication schedule more in line with those of other scholarly journals.
 
Some of the Mythlore issues from the 1970s are labeled, "Same as Tolkien Journal." What was the relationship between the two journals? Did they eventually merge? Did they share editors? Was Glen GoodKnight primarily interested in Tolkien when he started Mythlore in 1969?
 
Tolkien Journal merged with Mythlore in 1976, and the two journals produced several joint issues before then. Tolkien Journal also published several joint issues with Orcrist, the bulletin of the University of Wisconsin Tolkien Society, before our merger. With their issue #15, the Tolkien Society of America permanently merged with the Mythopoeic Society and Tolkien Journal with Mythlore. The Tolkien Journal name and issue numbering was added to the masthead for the next three numbers.  With Mythlore #12, the new subtitle "A Journal of J.R.R. Tolkien, C.S. Lewis, and Charles Williams Studies" replaced Tolkien Journal on the table of contents page.
 
Glen GoodKnight, who passed away last year, did start as primarily a Tolkien fan. The society grew out of a Bilbo and Frodo's Birthday Picnic he organized in Los Angeles in 1967. But he understood that to be a viable, long-lived society, we would have to consider Tolkien in the context of his group of friends and his writing in the context of fantasy as a whole. GoodKnight was also concerned to keep us from veering too far into either the academic or the fannish, which is why we insist on a readable and accessible style from our contributors, and why quality of writing is more important to us than the academic credentials of the author. Inklings studies in general is very congenial to independent scholars.
 
Why do a few other issues from the 1970s include Mythprint? What was the relationship like between Mythlore and Mythprint?
 
Mythprint is the society's monthly news bulletin. At several times of low economic ebb or lack of editors for Mythprint or Mythlore, our content was combined.  Mythprint has also been through a change of editor and format recently, and it is now delivered online, with the majority of its content being shorter reviews of fiction, non-fiction, and media items – but the current editor has some exciting new ideas for regular columns (some of them revivals of pre-1999 Mythlore columns) and other new material. We have some overlap in non-fiction reviews, but Mythlore's reviews are far lengthier and more substantial. Each editor occasionally contributes to the other's publication, and we alert each other if we receive a review item more suitable for the other's content.
 
Why were there so many fluctuations in the quantity of issues published per year over the decades, ranging from one to four? How many issues do you currently publish per year? Can this number change easily, depending on the quantity of submissions, etc that you receive? Does it need to stay constant in order to fulfill library subscription requests, which might be for a specific quantity of issues?
 
We are all volunteers in the Mythopoeic Society, so there have been times in the history of Mythlore when "real life" interfered with the ability of the editor to do his or her job. It's certainly one of the drawbacks of being a one-person shop (I currently handle almost everything except the mailing list and finances, including storage and shipping of recent back issues, though in the past there have been several sub-editors and section editors) and one of the reasons I settled on two issues a year rather than four.  We also had difficulties at times when there was no new editor waiting to take over the position; one of my goals over the next few years is to start looking for a potential successor, even though I have every intention of continuing as editor for the foreseeable future. As a librarian, I understand how frustrating it is to deal with an irregular journal, so that's one more reason I try to stick to our publishing schedule and have regularly published issues in the spring and fall since I took the reins.
 
Your mission statement states that Mythlore primarily focuses on the works of three writers, J.R.R. Tolkien, C.S. Lewis, and Charles Williams. On your website you state that they were the "three authors who were also prominent members of an informal Oxford literary circle (1930s-1950s) known as the Inklings." What separates these three writers from the other classical or current fantasy writers?
 
The Inklings came together and influenced each other at a watershed moment in modern fantasy. They were all practicing Christians, and all heavily influenced by both Edwardian fantasy and adventure and children's literature—The Wind in the Willows, Peter Pan, Rudyard Kipling, H. Rider Haggard, and so on—and a love for mythology. Yet they were also very much a product of World War I, Tolkien and Lewis both being veterans, and of the difficult relationship many post-war writers had with modernity.  Post-Inklings fantasy is almost entirely different from what came before; as Terry Pratchett has said, fantasists may try to deny the influence of Tolkien in particular on their works, but he's always there in the background like Mt. Fuji—and when you can't see him, it's because they're standing on his shoulders. The Inklings are also increasingly seen as an example of the collaborative process of writing and how writers influence each other. For readers interested in learning more, I highly recommend Diana Pavlac Glyer's The Company They Keep and Jared Lobdell's The Rise of Tolkienian Fantasy.
 
Can you explain the difference, from your research and classifications in the journal, between the genre of "myth" and the genre of "fantasy?" Are the two concepts interchangeable? Do any fantasies lack mythic elements? Are some myths non-fantastic? On your website you define the name of your society, "mythopoeic," as, "(myth-oh-PAY-ik or myth-oh-PEE-ic), meaning 'mythmaking' or 'productive of myth.'" Elaborate on this concept, as it relates to fantasy.
 
Myth is generally something which is not "authored"—it arises almost organically from the interaction of human beings with the world and speaks to deep, universal emotional, psychological, and developmental needs. Fantasy is generally more individual—written by someone relatively identifiable, as an exercise in storytelling. Fantasy may use or attempt to create myth to a greater or lesser extent. There are many sub-genres within fantasy—wainscot fantasy, sword and sorcery fantasy, urban fantasy, and so on. Mythopoeic fantasy is also sometimes called "high fantasy" to distinguish its more serious purpose. Farah Mendelsohn's The Rhetorics of Fantasy provides a well-thought-out taxonomy of fantasy types. Here's how we define mythopoeic fantasy for the purposes of our society: It is literature that creates a new and transformative mythology, or incorporates and transforms existing mythological material. Transformation is the key—mere static reference to mythological elements, invented or pre-existing, is not enough.  The mythological elements must be of sufficient importance in the work to influence the spiritual, moral, and/or creative lives of the characters, and must reflect and support the author's underlying themes.  This type of work, at its best, should also inspire the reader to examine the importance of mythology in his or her own spiritual, moral, and creative development.
 
Has Mythlore ever published classical myth, such as the Greek and Roman myths? If not, why not?
 
Our interest is in how literature, particularly fantasy literature, makes or uses myth. So we have published many papers on the roots of particular fantasy works in classical or other myth, or on how classical mythic motifs appear in or are used or transformed in fantasy, but we don't do studies just of myths or of mythic motifs in isolation. For example, a recent paper, "The Ogre Blinded" by Daniel Peretti (in our Spring 2007 issue) applied the tools of folk-tale analysis to the Mount Doom sequence in The Lord of the Rings to show its structural kinship to the Polyphemos episode of The Odyssey. Most of the Inklings had a strong background in classics and were quite familiar with the myths, legends, and literary works of the Greeks and Romans, so digging out these influences is a rich vein of scholarship.
 
Were you affiliated with Mythlore as a reviewer or an assistant editor before you took over as Editor-in-Chief in 2006?
 
I had been a contributor, and I was the editor of a book recently published by the society's press, a frequent presenter at the society's conferences, and the winner of one of the society's awards, so I was well known to the editor at the time and to the other members of the Council of Stewards, our governing body. Since we switched to the academic format, Mythlore has been pretty much a one-person shop with no assistant editors.
 
You are the Head of Access Services at the University of Oklahoma Libraries, where you hold the rank of Associate Professor, as well as being the Editor of Mythlore and publishing your own research in two distinct fields, mythopoeic fiction and librarianship. Describe an average day on your job. How do you juggle tasks? How do you organize your schedule to finish all of your plans?
 
As a department head, my major responsibility, as I see it, is to be available to solve problems and to deal with crises. To this end the day-to-day routine is delegated throughout the department as much as possible. Probably only a quarter of a typical day is spent on my own recurring tasks, committee work, in-library training, and so on. What this means is that I seldom know if I can sit down and devote hours or even days to research and/or editing, or if I have to drop it all on a moment's notice to deal with something that's come up. This has forced me to be very organized!  I keep detailed lists of projects and commitments and their due dates, and I pick them up as I can throughout the day. There are times when I take a lot of work home to meet deadlines. My editing is organized around a series of workflows and checklists, making heavy use of Excel charts in which a submission is moved from category to category throughout the process. 
 
Is the experience you gained managing library services essential to your business and management roles as an Editor of Mythlore? Would you recommend for a new academic that wants to edit a national journal to begin in library or university administration to build the necessary management skills?
 
An editor needs to combine two skill sets: scholarly, at which they must be highly competent though not necessarily brilliant, and organizational, at which they must be outstanding.  My skills as a librarian are very relevant to my job as an editor. Librarians generally excel at organization, task management, and bibliography-related skills, and are very detail-oriented. The basis of our training is, after all, in how to organize, retrieve, and evaluate information. More specifically, working for a large university library means I have easy access to the materials I need to check quotes and to find further material to suggest to contributors.
 
I see that you have achieved tenure and promotion in rank, though without a Ph.D. Do you think the Ph.D. is necessary for further advancement in your field? Do you plan to pursue one?
 
The MLS or MLIS is considered the terminal degree for librarians, like the MFA in the arts. The MLS is generally sufficient for achieving tenure and promotion at institutions where librarians are tenure track. In these institutions, the specific job a librarian does is considered equivalent to the classroom teaching done by other professors. However, librarianship has been suffering from "degree creep" for decades, and since the time I graduated in 1983, I have seen more and more jobs listed requiring a second masters or Ph.D. in another field, even for entry level positions. (The Ph.D. in librarianship is generally only desirable if you wish to teach in a library school.)  If I ever have time, I do intend to pursue another degree, but I've been far too busy working and writing to do so yet!
 
Do you plan on splitting your time between library work and Mythlore in the coming decades? Do you plan on focusing primarily on one of these tasks?
 
I do intend to continue both. Editing Mythlore is an integral part of my continuing service and research agendas—like most professors, I have to continue to produce in the areas of teaching, research, and service even after getting tenure—while librarianship provides the ideal framework in which I can achieve these goals. I have cut back on research and writing in librarianship, though.
 
Can you easily receive funding to present your research at conferences through your library or university? It looks like you have been presenting in at least two conferences per year over the last decade. Are you motivated to travel more to conferences in the future? Do you have any advice for new academics on how they can take full advantage of presenting their research in conferences? What are the benefits of sharing your work in local or national meetings? Are there any drawbacks?
 
Funding for travel to conferences is not as easy to come by as I would like. We have a limited pool to draw from, and try to share it our equally among the library faculty. I do sometimes find funding through other campus sources as well. But I find conferences extraordinarily rewarding and therefore dip into my own pockets when necessary, and I would encourage new academics to do the same. I can't do much better than point them to a piece written by Peter C. Rollins, co-founder of the Southwest-Texas Popular Culture Association, about the value of conference attendance, which can be found at http://swtxpca.org/documents/elements.html. Do go, read your paper, participate in discussions afterwards, go to other peoples' papers, join the discussions, go out for meals with the people you meet, and take full advantage of what the conference has to offer. The connections you will make are invaluable. And really, there aren't any drawbacks, as long as you know how to accept any criticism as a challenge to improve—the reason you give your paper before an interested audience is to get their feedback.
 
Did you become a fan of fantasy as a child, or was this a more recent development? You published several academic articles on Tolkien before winning an editorship at Mythlore. Were publications in the field one of the top requirements for editing the publication?
 
I have been reading fantasy as long as I can remember, along with pretty much anything else I could get my hands on. Lloyd Alexander's Prydain Cycle was probably my first experience with fantasy. I also read a lot of mythology, the D'Aulaire books on Greek and Norse myths being my favorites. I didn't actually start writing in a scholarly way until I was hired at my current tenure-track position and had to develop a research agenda—but I took to it quickly and found it very rewarding. The main requirement for becoming editor of Mythlore was interest in the job, frankly, but my combination of scholarship, editing experience, and organizational skills were what clinched it. They are certainly what I will look for in recommending a successor.
 
In addition to running Mythlore, you worked as the Editor of the Oklahoma Librarian 2006-2009. What are the differences between running a librarian and a fantasy journal? Are there challenges or difficulties to running one versus the other type of journals?
 
Oklahoma Librarian is a newsletter, running about 12 pages per issue and published every other month. It has just recently switched to electronic delivery. There are a number of ways in which it was quite different from editing a scholarly journal. The deadlines are far tighter and more firmly set, it prints an entirely different type of material, and there is more emphasis on visual design and illustration. It was often a challenge to get sufficient material for an issue or to get contributors to honor their commitments on time. It's also unlike an academic journal in that there is no need to have submissions refereed or to check bibliographic sources. On the other hand, personal skills of time management, page design, and ability to develop and follow workflows are equally important to both. It was a good experience, and I learned a lot from it and still edit the book review column. Starting with a newsletter can provide valuable experience to the beginning editor.
 
Please give some advice to new academics on how they should edit their critical, creative or review submissions to make them more appealing to a journal's editor.
 
The most important thing is to look at the submission requirements and follow them to the letter. Use the format, file type, and citation style specified by the editor. A really outstanding submission might shine in spite of not being formatted correctly, but one that is only good or needs work can be sunk by a failure to follow directions. You should also be familiar with what the journal publishes. Look at the table of contents for the past few issues, and skim a few articles. Does your paper have a "voice" that will fit in? Is the length of your bibliography approximately the same as the average article's? How about the overall length of the paper? If your paper is dependent on illustrations, does the journal typically include them or might this make more work for the editor and printer? If you include passages in other languages, does this journal typically provide translations? Are you too colloquial, or do you use too much jargon? You want your paper to look like it belongs already before it even gets to the editor's desk. (However, you don't need to go quite as far as one submitter, who formatted his submission to look as close as possible to the way it would look if published—font, dingbats, page size and all!)
 
What are the most common reasons why an article might be rejected from publication in Mythlore?
 
The most likely reason is lack of depth in the research. A scanty bibliography shows sloppy research; this field has been around a long time, and if you don't do your research and simply re-hash arguments that were first aired in the 1960s, you haven't gone far enough. (I used to think this was unique to us, as a field where there is a strong non-academic interest in the topic, but other editors have told me it happens everywhere.) The next most typical reason is not being suitable to our purpose. There are always authors who merely look at the title of the journal and don't pay attention to our mission statement, but this has been improving since we gave it more prominence on our website.  A third common reason is simply poor writing skills; by this I mean more of a lack of understanding of how to frame and state an argument and sustain it for the length of a paper, than English not being the writer's first language. And sometimes we find we have several papers on almost exactly the same topic and must simply choose the best one. The big thing, though, is the "so what?" factor. If the paper lacks originality and the referee finds him or herself saying "so what?" after reading it, then no matter how well-written and researched, it won't make the cut. As in the title of a book I recommend below, you must first have something to say.
 
Do you recommend any books on writing and editing for editors, graduate students, or academics editing their works for publication?
 
I would recommend How to Write a Lot: A Practical Guide to Productive Academic Writing by Paul J. Silvia; while most of his examples are from his own field of psychology, his advice is universally applicable. Also good is First Have Something to Say: Writing for the Library Profession by Walt Crawford. Again, though it is somewhat focused on librarianship, the advice is good for anyone. For the writer who wants a look inside the mind of the editor or eventually plans to become an editor, I recommend the concise The Elements of Editing: A Modern Guide for Editors and Journalists by Arthur Plotnik. The editor who may be dealing personally with the physical design of his journal should absorb as much as possible from Robert Bringhurst's The Elements of Typographic Style. For both aspiring authors and editors, I'd also strongly advise attending editors' roundtables, panels, and chats at conferences. The Modern Language Association and Popular Culture Association both have them, and I'm sure others do as well.
 
What should graduate students who are interested in editing a journal later in their career do to improve their chances of winning a job as an academic journal editor? Are there classes they should take? Jobs or internships that they should do? What type of work should they accept after receiving a Ph.D. to improve their chances of becoming an editor in the future?
 
I kind of came at this backwards, getting interested in editing from the perspective of a contributor and not even really thinking about doing it until it became clear the previous editor of Mythlore was planning to step down—so I didn't really prepare for it consciously. But I would suggest building up a record of scholarship, and paying attention to the mechanics of editing from a writer's perspective first. What do you like about working with certain editors and journals as compared to others? If you edited that journal, what would you change? Editing a book is also an excellent preparation, particularly with a smaller press where you may have the opportunity to do more than just send off the contents and may be able to work on layout, indexing, permissions, and marketing as well. Doing some behind-the-scenes work like proofreading, quote-checking, and indexing can be useful experience; try your society's press, or see if friends could use a hand with manuscript preparation. Go to the editors' panels I mentioned above, and talk to the editors there about editing. Get involved in your scholarly organization, hold offices or volunteer, and generally show responsibility and a capacity for hard work. Hone your organizational and task management skills any way you can, since you will have to prove you can handle large projects to deadline and repeat your success issue after issue. And as soon as you do find work as an editor or assistant editor, join the Council of Editors of Learned Journals and take advantage of the experience of other editors.
 
Are there any other comments that you would like to add? 
 
There are lots of small journals out there like Mythlore that still run rather informally compared to the big names, but which publish outstanding scholarship and offer you a chance to really have an impact and bring your own personality to them. It's rather appealing to be this small and independent, in a way; not being affiliated with a large journal publisher like Emerald or Haworth or Johns Hopkins may be a little more risky or less profitable in some ways, but it means we can do what we want, make any changes we need to in a moment, and so on. It also means that my office is the back issue storage and shipping center, but that comes with the territory!
Here endeth the interview.
Although this interview was done for another purpose and gratefully appropriated for Horn of Rohan, it occurs to me that series of similar interviews that helps you get to know all the Stewards might be of interest. (Although buying each one a drink and/or chocolate at Mythcons might work too). If anyone is interested in being an interviewer for another Steward, contact me and we'll talk (virtually).
---
Posted on January 13, 2011 by Edith L. Crowe
Sauron Spambot
Your CorSec/blogger apologizes profusely for not getting this announcement to you earlier…I received it from the Tolkien Society on December 31.
The Tolkien Society regrets to announce that due to a spambot intrusion on
our webserver on 15th December, the Tolkien Society's web presence was
down for as long as it took to resolve the technical issues and restore
the site using a back-up from the 12th December.
We've identified the cause of the problem and already put a fix in place.
We've also identified 2 areas that may be affected by the problem – event
bookings andmembership purchases/renewals

Bookings
Can anyone who made any kind of booking for 2012 Return of the Ring since
the 12th December please contact Lyn the Tolkien Society Bookings Officer
so we can keep track of you and resolve any issues regarding your details.
The bookings database is held offline but if your payment went through at
the wrong time then it is likely that we don't know that you were there.
May I (Susan ~ Tuilinde) also remind you that the price rise for Registration and Accommodation for Return of the Ring in 2012 has now been held off until the 31st January.
Bookings enquiries please contact: bookings@tolkiensociety.org
Memberships
Can anyone who bought or renewed a society membership since the 12th
December please contact Marion the Tolkien Society Membership Secretary so
we can keep track of you and resolve any issues regarding your details.
The bookings and membership databases are held offline but if your payment
went through at the wrong time then it is likely that we don't know that
you were there.
Membership payment enquiries please contact: membership@tolkiensociety.org
All best wishes for 2011 (and no more snow please!!!)
Tuilinde, International Liaison, Tolkien Society
---
Posted on January 05, 2011 by Edith L. Crowe
That's the title of a paper written by a young man who's interested in picking our myth-stuffed brains. He has three questions he'd like a variety of answers to, from those of us who understand and appreciate mythopoeia. You can read his query below, and see his contact information. The paper's due January 19, so if you're interested, don't dawdle. In the great Mythopoeic Society tradition of discovering and growing young scholars, this is a good opportunity to help another one along the primrose path to mythopoeic scholarship. In said scholar's own words:
"The essay I am writing is for an AP English Literature course in my Connecticut high school. The final draft of the research paper, "Mythopoeia as a Coping Mechanism," is due January 19, 2011. The point of the essay is to supply readers with the general understanding [that] the genre, mythopoeia, is around to– not only entertain readers but to help them cope with real-life issues such as death."
What is Mythopoeia to you, and how did Mythopoeian literature guide you through life?
What literature specifically helped you, and why?
Why is eucatastrophe an important subject?"
Please send your replies to Richard L. Haas III (saahdrahcir@hotmail.com).
---
Posted on December 06, 2010 by Jason Fisher
[This interview originally appeared in Mythprint 47:6 (#335) in June 2010. Join the Mythopoeic Society to subscribe to Mythprint for as low as $12/year.]
---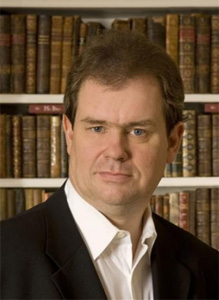 Simon Tolkien, the son of Christopher Tolkien and the grandson of J.R.R. Tolkien, has recently published his second novel, The Inheritance. His next novel, The King of Diamonds, will be published by Minotaur in April, 2011. You can learn more about Simon Tolkien and his novels at his website, www.simontolkien.com.
–
Jason Fisher: Can you tell us what you remember of your grandfather, J.R.R. Tolkien, and grandmother, Edith? (Apologies for giving you the same question you've no doubt answered a hundred times; thank you for indulging me!)
Simon Tolkien: Yes, I have answered this question many times so let me treat it as if you are asking me about my grandparents together – a question I have never answered. They were very different people, and there were barriers between them throughout their marriage. My grandmother was not in any way intellectual. In the early years of their marriage in Leeds she transcribed some of my grandfather's early stories, but Oxford was always hard for her – the university was an entirely male-dominated world. As a girl she had been a very good pianist but she did not pursue this once she was married. Religion also separated them. My grandfather persuaded my grandmother to convert to Roman Catholicism when they were married but within a few years she had turned her back on the Church. This must have been hard for him given the Church's teaching that only true believers went to heaven. Their lives were never easy. My grandfather had to work very hard, combining two jobs as an author and a university professor. They brought up four children, and they lived through two World Wars. My grandfather fought on the Somme in 1916 and two of their sons fought in the Second World War, with my uncle Michael being permanently scarred by his terrible experiences under fire. They always remained deeply loyal and proud of each other. I think that my grandfather agreed to leave Oxford for Bournemouth after he retired because he knew his wife would be happier there and it was also 'her turn.' I think they always retained a heartfelt tenderness for each other, remembering that they had both been orphans and the struggle that they had had to overcome to get married after my grandfather's guardian had forced them apart for years before my grandfather came of age. Their old friend, Rob Murray told me several years ago how he had come upon them unawares when he was staying with them in Bournemouth at the end of the sixties and they were sitting hand in hand remembering how happy they had been. My grandfather was a romantic and his wife was always in part Lúthien Tinúviel dancing in the woods in 1917, and so their names appear as Beren and Lúthien on their gravestones in Wolvercote Cemetery where they are buried side by side.
–
JF: When did you first read The Lord of the Rings? What do you think of it?
ST: I have read it five times, first when I was a child and now again to my daughter – we are about to climb the stairs of Cirith Ungol. This is the first time I have read the book since I myself became a writer, and reading it gives me a sense of who my grandfather was. I have been particularly struck by the extraordinary detail of his description of landscape. It reminds me of Thomas Hardy at his best, and I sense how much the natural world must have meant to him. Perhaps this is where his love of words began – from when his mother taught him the names of the trees and flowers in the countryside around Sarehole when he was a child. Also this time round I was deeply moved by Tom Bombadil and Goldberry – I think this was as close as my grandfather could come to describing an earthly heaven – language become poetry and song in the valley of the Withywindle.
–
JF: Can you remember anything of the time when your father, Christopher Tolkien, was editing The Silmarillion and other posthumous publications of your grandfather's? You would have been a teenager at the time, but did he ever say anything to you about the process, the difficulties, or hint at his hopes or fears in taking on that momentous task?
ST: There was an old barn in the house where my father lived in Berkshire when I was a boy, and we had wonderful games of table tennis in there together. And there was a rickety ladder leading up to a loft with a view down into the working farm next door. But then when my grandfather died the barn was converted to a great workroom in which all the manuscripts were assembled for the writing of The Silmarillion. I remember Guy Kay working out there with my father. And when the project was finished several years later my father and stepmother sold the house and moved to France which was upsetting for me. As you say, I was a teenager during these times and The Silmarillion is not what concerned me; it was the changes that my grandfather's death brought about in my life that mattered.
–
JF: How did you come to decide on a literary career of your own? Obviously, your education followed a different path from that of your father and grandfather (Professors of Lit. and Lang.). But at some point you came around to writing. Did some part of you always want to be a writer? Do you have any similar interest in languages?
ST: I wrote no fiction until I was forty. With the benefit of hindsight I think that I was intimidated from doing so by the scale of my grandfather's achievement. Then at the end of the 1990s the Jackson movies spurred me to want to create an identity of my own so I would not look in the mirror and just see the grandson of The Lord of the Rings staring back at me.  However I think that unconsciously I had been preparing for this change in career for a long time as I wrote a daily diary from 1990 onwards and over the course of ten years slowly learnt to write without self-consciousness.
–
JF: Write what you know, they say. And indeed, your latest novel (like your first) is a legal thriller, not a fantasy story. But unlike the first, The Inheritance seems to be more suffused with people, professions, settings, and artifacts — professors, ancient codexes, the aftermath of the World Wars, Oxford, Bournemouth, even a Remington typewriter — that could have been lifted from your childhood. The main action of The Inheritance is set in 1959, the year you were born. How much of the period and settings come from your own personal childhood memories, as opposed to your larger study of history?
ST: History was my first and greatest love. I am slightly ashamed to say that as a boy I hero-worshipped Napoleon Bonaparte and my greatest thrill was visiting his huge pink tomb in Paris when I was eleven. I still think of the past as another country as real as the present but forever just out of reach. In particular I am awed by the colossal struggles and sacrifices that shook the world during the Second World War – a time when history seems stranger, grander and more terrifying than fiction. And so in The Inheritance and again in my new novel, The King of Diamonds (out next April), I have deliberately made the War the  backdrop to events at the end of the fifties and in each book my detective, Inspector Trave must go back into the past to solve a murder. I suppose that my vision of the past is an amalgam of childhood memory and historical research.
–
JF: I couldn't help but notice the minor character of Charles Blackburn, estate solicitor to the late Professor John Cade. Is this a deliberate echo of the name of The Tolkien Estate's solicitor, Cathleen Blackburn? Or is it just a startling coincidence?
ST: Several readers noted the connection between the Sackville family in Final Witness and the Sackville-Bagginses, and that was certainly pure coincidence. There might be more of an unconscious connection here, which I hope Cathleen will not mind.
–
JF: Who are some of your own favorite writers, in the legal thriller genre, or in any genre?
ST: I was an only child and grew up in a cottage in the Oxfordshire countryside. I was thrown very much on my own resources which consisted of books, books and more books. I used to think I was very deprived by this experience but now I think the opposite. The books I read lying on my bed filled up my imagination and they are the fuel for my creativity now. Above all I loved romances that transported me entirely into a fictional past – The Count of Monte Cristo, Treasure Island, Wuthering Heights, Jane Eyre, Gormenghast, and The Lord of the Rings. They filled me with a sense of wonder – (to borrow Van Morrison's phrase) – which has never left me since.
–
JF: Is there anything you would like to say to Mythprint readers to interest them in your own novels? Our readers have a special preference for fantasy and science-fiction literature, but most are voracious bibliophiles and might like to try your books.
ST: I can't sell my book as something it isn't. It's a tale with its fair share of evil characters and a mystery that is meant to keep you guessing until the end. It has a strong historical dimension and is written as a page-turner. It's not science-fiction or fantasy but I think it's a good read and I hope some of your readers may like it.
---
[This interview originally appeared in Mythprint 47:6 (#335) in June 2010. Join the Mythopoeic Society to subscribe to Mythprint for as low as $12/year.]
---
Posted on December 06, 2010 by Edith L. Crowe
An opportunity for international scholarly activity:
The 5th International Conference on the Fantastic and the Miraculous
(FANCUD)
"In the Mirror of the Past: Journeys from History to HISTORY"
May 5-7, 2011 | University of Zielona Góra, Poland
Co-sponsored by Center for Mythopoeia and Philosophy of Literature and Center for Advanced Studies in Popular Literature at the Department of Polish, as well as by Center for Francophone Literature and Culture at the Department of Modern Languages, the three-day FANCUD conference at the University of Zielona Góra, Poland, is the only annual conference in the country on the literary and filmic intersections of myth, fantasy, science fiction and other speculative genres.
The focus of FANCUD 5 will be on the theme of restorative journeys from linear, isolated, and meaningless history to HISTORY that is meaningful through participation in a reality that transcends it. One increasingly pronounced element of contemporary life is the experience of helplessness in the face of overwhelming events and processes. Trying to make sense of the world and of their own identity, modern people often re-enact, albeit without realizing it, mythic patterns embedded in their cultures. The extent to which those patterns continue to be relevant tools for modern circumstances is a matter of considerable dispute. FANCUD 5 will seek to examine the presence in modern literature and culture of one such mythic pattern: the pull toward "eternal return," as Mircea Eliade put it, from meaningless history to HISTORY in which events are transformed into archetypal categories.
Confirmed speakers include Prof. Brian Attebery (Idaho State University), Prof. Véronique Gély (the Sorbonne, Paris), Prof. Auguste Owono-Kouma (University of Yaounde, Cameroon), Prof. Jakub Z. Lichański (University of Warsaw), and Prof. Marek Oziewicz (University of Wrocław).
We encourage papers, panels and presentations on literary, political, theological, linguistic, cultural and social aspects of journeys from history to HISTORY. We also welcome papers on other aspects of the anti-historical tradition. Topics may include but are not limited to the following:
• The search for one's own history,
• HISTORY as the research arena for one's own history,
• The crisis of the historical awareness,
• Unity of time in traditional cultures,
• Mythic dimension of time in mass culture,
• The archaic dimension of HISTORY,
• Sacred time in religions and beliefs,
• The past as the philosopher's questioning grounds,
• Time in utopia,
• Time in folklore and folk traditions,
• Prayer time as reading and ritual,
• Futurological games played with history,
• Mythologemes in literature as vehicles for HISTORY,
• Representations of history in fantasy and science-fiction,
• Medievalism and the pull of the past in speculative literature,
• Cultural images of time,
• Modern interest in myth and its meanings,
• Cultural transmission of myth.
The deadline for submission of proposals is February 15, 2011, although earlier submissions are encouraged. Please send a 250-350 word proposals to the Conference Secretary, Agnieszka Ryzza-Woźniak, at:
Agnieszka Ryzza-Woźniak
Department of Polish
The University of Zielona Góra
al. Wojska Polskiego 67
65-677 Zielona Góra
Poland, United Europe
You can also e-mail submissions to a_ryzza@o2.pl (please put "FANCUD submission" in the subject line) or to appropriate Division Heads (listed below). Proposals must be accompanied
by completed Registration Forms.
As you submit your proposal, please indicate if you have any scheduling restrictions, audiovisual needs (OHP, DVD/VHS player), special needs, or a need for a written letter of acceptance of your proposal. For information about registration, travel or accommodations, for assistance or disabilities issues, please contact the Conference Secretary. For more information and conference updates go to fancud@ifp.uz.zgora.pl
Notifications of acceptance will be sent electronically by February 28, 2011.
By March 15, 2011, accepted presenters will have to send in précis of their presentations and also pay the Conference Registration Fee.
The précis must be a 500 to 800-word abstraction of the central informing idea of the article and a cogent presentation of the development of its argument. It must be something more than
an extended abstract; the précis for English, Russian, German, and French presentations will be translated into Polish and made available to conference participants as handouts. Conference Registration Fee is €150. The payment must be made by bank transfer to the University of Zielona Góra account as specified below:
SWIFT/BIC code: KRDBPLPW
Bank name: Kredyt Bank S.A. filia nr 2 o. Zielona Góra, ul. Podgórna 50 65-246 Zielona
Góra, Poland
Beneficiary: Uniwersytet Zielonogórski, ul. Licealna 9, 65-417 Zielona Góra, Poland
Beneficiary's account no.: PL 42 1500 1810 1218 1004 4483 0000
Payment title: Konferencja FANCUD
Cancellations will be accepted in writing prior to April 5, 2011. No refunds will be issued after that date. A PLN 100 (equivalent of €25) administration fee will be assessed on refunds issued.
We look forward to hosting you in Zielona Góra!
Conference Committee:
Dr. Bogdan Trocha, Conference Head for Content and Program
bwtrocha@gmail.com
Dr. Tomasz Ratajczak, Conference Head for Program Scheduling
t.ratajczak@ifp.uz.zgora.pl
Dr. Agnieszka Ryzza-Woźniak, Division Head for the Russian-Speaking Section
a_ryzza@o2.pl
Dr. Joanna Ziobrowska, Division Head for the French-Speaking Section
zfr@yahoo.fr
Aleksander Rzyman, Division Head for the English-Speaking Section
aleksander.rzyman@xl.wp.pl
---
Posted on November 26, 2010 by Edith L. Crowe
From the Los Angeles Times to many a blog, much has been written about Glen since his surprising and untimely death on November 3, 2010. I just finished the November 2010 issue of Mythprint, which is entirely a tribute to the Founder of our unique Mythopoeic Society. Often I found myself nodding in agreement as others commended him as the architect not only of its uniqueness but of its very existence. Although I wasn't there at the beginning (and it was great to hear the stories of those who were) I was a relatively "early adopter" of the Society. Although this blog is less personal than ex officio, today I'm speaking as myself, not as Corresponding Secretary of the Mythopoeic Society. Many of my fellow Stewards have contributed their thoughts and reminiscences already; now it's my turn.
To give you an idea of the kind of person I was in long-ago days of my youth (1967), I once went downtown with some of my hard-earned money to buy an Easter outfit. Of course, I had to stop by the big bookstore first…and what to my wondering eyes should appear but the shiny new LOTR boxed hardcover set published by Houghton Mifflin. That Easter outfit never had a chance. Little did I know that in that same year, thousands of miles away, a young man was coming up with an idea for a Society that would have a profound impact on my life.
One of the things I've often brooded upon is the way that the pivotal events of one's life don't seem pivotal at the time. Only in retrospect does one realize–with a frisson of fear, sometimes–how different one's life would have been if that seemingly minor event hadn't happened. I doubt Glen realized at the time he was creating an organization that would profoundly affect not just his own life, but lives of thousands of others throughout the world. My coming to California was one of those pivotal events for me–I came with the intention of staying a few months; maybe a couple of years if I got a job. That was in 1971. I did get a job, and less than a block from the library's door was a comic book store. On lunch hours I'd sometimes go there to get comics that my brother wanted–he was a rabid collector who couldn't find everything he wanted back East. On the way out one day I noticed a flyer for a Star Trek convention in Los Angeles called Equicon–that upcoming weekend. In a highly uncharacteristic example of spontaneity, my partner and I hopped a plane and went. In the dealer's room was a table that lured me by a slide show of Tim Kirk's Lord of the Rings paintings (his project for his MFA degree). Some outfit called The Mythopoeic Society. Sounded interesting. Had a local group called Khazad-dum not too far from us. Started going to meetings. Attended Mythcon IV in Santa Barbara. These were My People. Hooked for life.
I am forever grateful to Glen for visualizing the Mythopoeic Society as an organization that welcomed scholarship but didn't see serious scholarship as incompatible with dressing up as an elf/hobbit/orc and carrying a banner (or moving a boat, or quaffing a proper 1420). Nor did he assume that the "appropriate" credentials were required for a person to produce valuable research on the work of the Inklings, or any of the related topics that have graced the pages of Mythlore and/or the podia of Mythcon. One of the most valuable characteristics of the Mythopoeic Society is the welcoming home it provides for independent scholars and students. As a toiler for many years in the Groves of Academe, I'm aware that it can be as dangerous as living in Fangorn. Those who transgress the borders of disciplines often do so at their peril. The Canon can be used to blast a promising career to smithereens. As a Librarian it was less dangerous to me that others–we are the Rangers in that forest–but it gave me the perspective to realize how unique and valuable a refuge the Mythopoeic Society offers.
Another aspect of Glen's vision particularly dear to my heart was the combination of of literature with the visual and performing arts. One might even see the Society as his piece of interstitial art. Few have the talent and drive to make a career of the arts, but many have enough love for and talent in an art form that to have no place for it in one's life is a constant ache. To have a place to share one's art with others, to know that someone besides you finds it valuable–that is a great gift that Glen gave to many.
Glen did not just create an organization, he created a place: a place where people of vastly different religious and/or political beliefs could come together amicably to discuss mythopoeic literature and art; a place where one could find friends treasured for decades but seen only once a month or once a year; a place where one's creative talents could be nurtured, could blossom and grow; a place in which one could be both scholarly and silly; a place whose existence can enrich one's life from youth to age and maybe beyond.
So thanks, Glen. I owe you more than I can ever say. You brought me good friends, you gave me a creative outlet, you helped me get tenure, you revived my artistic soul. You gave me friends and memories that I'll always treasure. Those Mythcons of my youth…the sound of harps and pennywhistles, the declaiming of the bards, the glow of velvet gowns and warmth of talk and laughter…you brought me the closest I've ever been to the Hall of Fire in the House of Elrond.
Farewell, Good Knight. May you see your swift sunrise.
---
Posted on November 22, 2010 by Edith L. Crowe
The beginning, is (I hope) obvious–at long last the Mythopoeic Society has a blog. The Stewards have discussed this for a long time, seeing the need for something more frequent and perhaps more varied than the "News" section on the Society web page; something more active and "pushy" (purely in the technology sense) than our other venues.
The Horn of Rohan is "the official voice" (one of them at least) of the Mythopoeic Society. Although content may originate in various places, I shall be the Chief Blogger (as an extension of my role as Corresponding Secretary)–a decision that is already causing some trepidation in my aging brain. What kinds of things should you expect to see here?
News and announcements–some the same you can also find via the mythann Yahoo group or news updates on the web site; some you may only see in The Horn of Rohan.
Announcements about events of interest to members of the Society, particularly those with information too timely for Mythprint's monthly publication schedule–performances and other events local, national and international.
Information about new books you may want to check out (librarian pun), particularly those published by our members and other Inklings scholars; short reviews of books (films, graphic novels, etc.) that won't fit in Mythprint or are not precisely a match for its editorial guidelines.
Timely updates for events when information comes thick and fast in small bits–Mythcon, for example.
Anything else we think of!
Your Corresponding Secretary's previous blogging experience was years ago and much simpler. This will take some getting used to. Prepare for The Horn of Rohan to change and no doubt become more complex as time goes on. Meanwhile, better to publish something now than wait for perfection of format. Enjoy.
So much for the beginning–what about the end? That is the end of an era, an era that came to a close with the unexpected death of our Founder, Glen H. GoodKnight, on November 3. That is an event of such magnitude that it deserves a post of its own. Stay tuned.